WELCOME TO DAS INDUSTRIES
Das industries is also a supplier of spare parts for the Solvent Extraction plants. We supply various different equipments for the solvent plants. Some of them include:


Desolventiser Toasters:
The de-oiled meal coming from the extractor is being heated in the toaster to separate Hexane with the help of Jacket and open steel. We have a special feature where open steam is passed through the blades for the uniform heating of the meal.
Condensers:
The Hexane vapors coming from the distillation section and toaster section are cooled for recycling in the plant inside the condensers.
Heaters:
The Miscella is heated in the heaters to evaporate hexane with the help of steam.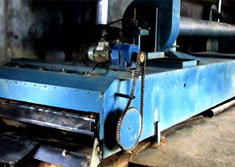 Drier Cooler:
The raw material coming from the pelleting machine is heated with the help of radiator inside the drier cooler. This helps to evaporate excess moisture from the pellets/meal so that percolation in the extractor is smooth.